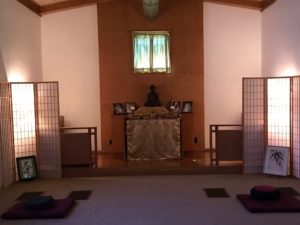 Retreats offer a rare opportunity to let go of the demands of our busy lives and recognize our inherent compassion and wisdom through dedicated Zen training. Each day includes chanting, sitting and walking meditation, work practice, a private kong-an interview and formal vegetarian meals.
Yong Maeng Jong Jin (YMJJ) Retreat
These retreats are typically multiple-day and include a weekend.  They are silent retreats that allow time to look inside an investigate your life. They are opportunities to clear your mind of habitual thinking and access our wisdom and compassion.
Yong Maeng Jong Jin means "to leap like a tiger while sitting," a Korean term traditionally used to describe intensive Zen meditation. It points to the state of clarity and wisdom we experience that is both relaxed and wide like space, and clear and meticulous as the tip of a needle, so that we can use our experience to help ourselves and this world, moment to moment. The schedule each day consists of Zen practice (bowing, chanting, sitting and walking), work and rest periods, and vegetarian meals eaten in traditional temple style. YMJJs also include talks and kong-an teaching interviews with a zen teacher.
Please share this information: