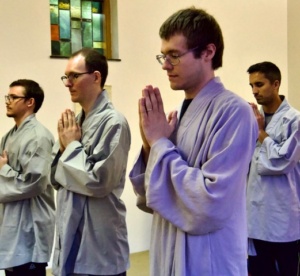 Prairyerth Zen Center is a non-profit organization and to that end, donations to Prairyerth Zen Center are tax deductible. We are here because of the wonderful donations of time and money from the people who practice here. These donations allow us to provide classes and meditation retreats as well as upkeep of the dharma room and altar. Thanks to all of you for keeping Prairyerth alive and growing.
Becoming a member:
Membership in International Kwan Um School of Zen includes membership in the Prairyerth Zen Center, one of 50 Zen centers worldwide.
Half of the membership dues come back to Prairyerth Zen Center and the other half is used to support teaching activities on a national and international level as well as supporting the monks and nuns in our school, to our newsletters and Primary Point, the journal of the Kwan Um School.