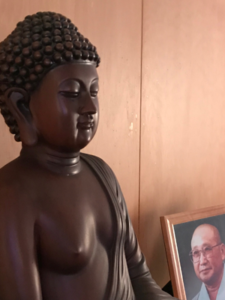 There will always be someone there to help you.
The attitude while in the dharma room is one of respect and attention – entering a space that should help bring calm to your heart and mind.
Please wear long pants. Your dress should be modest and respectful.
Please take off your shoes and place them in the shoe rack. Put your robe on before entering the dharma room.
When you enter the dharma room, place your hands together in hap chang – and do a standing bow toward the altar as you come through the door.
Please walk on the outside of the mats and behind those who are already seated.
Allow yourself to become quiet in the dharma room – if you need to talk, do so quietly.
If you need to walk in through the center of the room and in front of the altar, do a standing bow toward the altar.
If you are helping to set up the room and picking up or moving mats and cushions, please do not use your feet to move them, but bend down and move them with your hands.